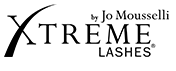 Instant Gratification with Lasting Results!
Wake up to longer, thicker, and fuller lashes every day!
Enjoy the benefits of Xtreme Lashes semi-permanent Eyelash Extensions with little or no need to adjust your lifestyle. You can swim, shower, exercise, and sleep worry-free.
Perfect for special occasions or simply for day-to-day wear. You will love your new vibrant, long and luscious lashes!
Xtreme Lashes Eyelash Extensions can be seen on top models and celebrities on the Red Carpet, in films, in print and on television. So completely natural-looking, you may know just who has them on! You too can have the same brand of eyelash extensions that all of Hollywood is raving about!
Full Set of Lashes (appox. 2 1/2 hours) $295.00
*Includes consultation*
Event Lashes/ Natural look (approx. 1/5 hours) $199 this is not a full set
Re-Lash
Upon recieving your full set of eyelash extension, lash fills usually take place 2 weeks from your initial visit unless your lifestyle requires less time.
Mini Fill- $50.00 (approx. 30 mins)
Half Fill-$75.00 (approx. 45 mins)
Full fill- $100.00 (approx. 1 hour)
Test Set: $20.00
A test set is for clients who have a history of sensitive eyes and skin, and for clients with allergies. After a thorough consultation 10 lashes are applied per eye. These lashes will mimic the length and color of your natural lash, and are easily removable if a reaction does occur.  After 48 hours, if no reactions have occured, we will then apply the full set.
Lash Repair: *Price determined upon consultation*
FAQ
How long does the procedure take?
A full set (approximately 60-80 lashes per eye) will take from 90-150 minutes to complete. Re-lashes, every 2 weeks after, take 30 to 60 minutes depending on the fullness you would like.
Can I apply mascara to Xtreme Lashes Eyelash Extensions?
One of the primary advantages of Xtreme Lashes is that you wont need mascara. However, if you want to wear mascara, ask your Xtreme Lashes Stylist about Xtreme Lashes Mascara, specially formulated to be compatible with eyelash extensions. Never use water-proof or oil-based mascara.
How do I prepare for my procedure?
Do not curl your lashes or wear any mascara. Remove contact lenses and thoroughly clean your lashes with a mild, water based cleanser. Eyelids and lashes must be completely clean and dry.
How do I care for Xtreme Lashes Eyelash Extensions last?
Ask your Xtreme Lashes Stylist for an after-care guide for your new Xtreme Lashes Eyelash Extensions. Use products such as our exclusive Xtreme Eye Makeup Remover and Facial Cleanser.
How long do Xtreme Lashes Eyelash Extensions last?
When properly applied and regularly maintained, Xtreme Lashes Eyelash Extensions can last indefinitely. As your natural lashes shed, the extensions that are attached also shed, and new lashes begin to grow. With re-lashes, new extensions are added to the newest lashes to replace those that have shed to maintain a full, natural look.
As seen in:





Contact us today for an appointment with our Xtreme Lashes Stylist to have you own beautiful set applied.